NASCAR Busch North Series Teams

Featured Teams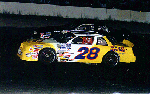 Bill Penfold
Penfold Motorsports
Yarmouth, Maine



Racing at night, Bill Penfold's highly visible, #28 racecar dips low to the inside, to pass a fellow series competitor! Penfold has three years experience on the NASCAR Busch North Series Tour, and his 1997 stats are impressive, Two Top-10, and Seven Top-20 finishes, after running another semi-limited schedule of 17 races.

In both 1996 and 1997, Penfold completed the seasons in 21st position in the points. NASCAR Statistics for the 1996 season list his One Top-10, Two Top-15, and Six Top-20 finishes, out of only 17 races.

His Rookie year racing stats are also top-notch; in 1995, competing in 14 races, he won Four "Rookie of the Race" awards, (placing him third out of 18 drivers in the Rookie points) and The Pole Award for winning the Pole Position at Lee Speedway. Year end stats show his Two Top-10, Five Top-15, and Nine Top-20 finishes, which placed him iin 22nd position in the NASCAR Busch North Series Points Standings.

Bill Penfold has consistently qualified for every race he's entered, except for one, where an accident took him out of the running. His racecar, seen by millions or NASCAR fans, is a prime example of a promotional oppportunity!

Bill Penfold has received many seconds of televised "free air time" on his unsponsored racecar during his brief career. With TV advertising at a premium, a sponsor would have received over 15 seconds of this free advertising during the October 1996 NASCAR Busch North Series race held at Lime Rock Park.



PRIOR EXPERIENCE
Bill Penfold has over 15 years of racing experience behind him. He has driver Chargers, Enduros, Limited Sportsman, Late Model Sportsman, and Pro Stock racecars. In one 1993 weekend alone, he collected a feature win at Beech Ridge Motor Speedway, a second place finish at Oxford Plains Speedway, and a third at Wiscassett Speedway.