"Maverick"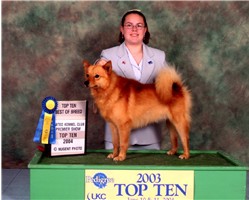 Maverick is a wonderful companion. He came to us immediately after
winning the # 1 position in UKC's Top-Ten class for 2002 with
Rowdy Yates, his breeder/owner/handler. Again, he won a place in
the United Kennel Club's Top 10 competition due to EJ's dilligent
handling in 2003. Consistency is his name as shown in
the above pictures!
Both Pictures above were taken at different times, yet Maverick displays the
showmanship needed to win this title. He's also helped EJ win
second place in Jr. Showmanship for 2003. Mav then went on to win his class in Breed the
same day.




Maverick became a UKC Champion in 2003.
Thank you Judge Fran Geiger.