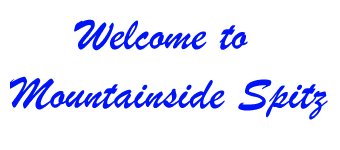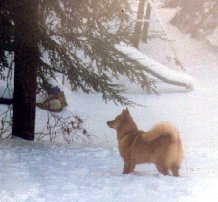 Welcome to the information pages about the fun people have with their American Eskimo and Finnish Spitz Dogs. Our dogs are perfect for show or pets, having championship blood lines, yet bred and socialized to also become loving pets.

Please note: Mountainside Spitz has no control over the ads appearing at the top of
this page. We do NOT promote any of the ads that appear on this page,
except for the banners included in the pages.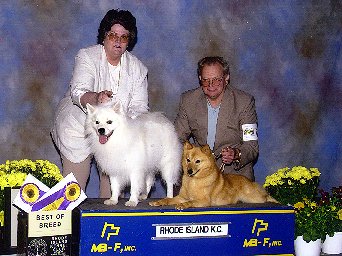 Photo by Tom Nutting

Our two Best of Breed Winners~!
Frosty is a UKC Champion, with points towards his AKC Championship.
Frosty has tested Optigen Pattern/Genotype
"A"
See our Contract pages.

WE HAD PUPPIES !!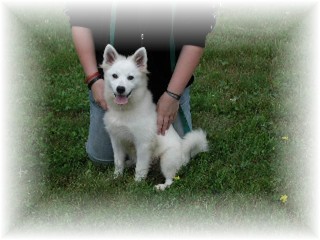 Here is Frosty Jr., AKA Mountainside Southern Comfort, Optigen Pattern A,
at four months of age. A real handsome boy, just like his daddy!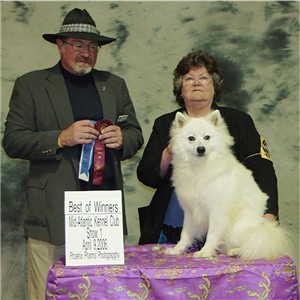 And here he is again at one year of age.
He won Best of Winners at his first show!



Here is Bianca, Frosty Jr's sister on her way to her new home!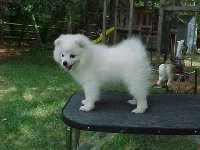 Meet the smallest member of our family!
"PR" Isabeau Mountainside Powder Puff
AKA Puffy~!


Puffy's Page

Meet the newest CHAMPION in the family
and the #1 Male Finnish Spitz in UKC for 2002 and 2003!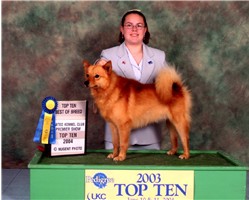 CH Legends Top Gun of Maxasta
AKA Maverick
Maverick can also be found on the
Jr. Handlers' Page

Maverick will be available at stud to approved bitches in 2004!

His Pedigree will soon be found online.

Now, Meet the girls' Finky,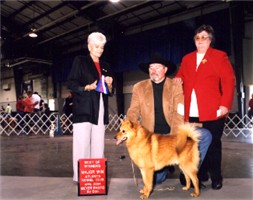 Maxasta's Rowdy Fox
who won a 5 point major at his first show!
He is now a UKC Grand Champion!

LINKS
Frosty's Home Page

Cinnamon has her AKC and UKC Championships
and is the #1 Female Finnish Spitz in UKC for 2003!

and Lucky1 is our rescue companion dog.



Visit our Jr. Handlers' Page.


Pedigrees will accompany some of the pages of our dogs.
Be sure and stop back for another visit!





CONTACT
Ruth Anderson
434-969-4253



vascooter@embarqmail.com
Page By ~Scooter
All Rights Reserved © 2001-2004 Mountainside Spitz
All text and photographs connected with this site are the property of Mountainside Spitz.
Please do not copy anything from this site, but enjoy them in their fullest honor on our family pages.
Free JavaScripts provided
by The JavaScript Source