Presenting the newest member of our family,
Lucky1 Anderson
Lucky1 arrived at our home on June 6, 1999. He is a rescue dog, saved from the
CACC in Brooklyn, NY by Barbara Lukowski, a special rescue person!
Being a part of the Eskie Rail Road, we fell in love with him the
minute we laid eyes on him, and arranged to bring him home
as a playmate for Frosty.




Lucky1 is a seven month old, neutered male American Eskimo puppy,
full of spunk, yet very obedient. He knows to come when called,
walks very well on a leash, and is very friendly.
He enjoys sitting in Dad's chair and watching TV!
His favorite channel is Animal Planet!
The above pictures were taken in New York City in 1999, so be sure to
return to see new pictures of he and Frosty Treat together!


Lucky1 after he has lived with us for awhile!
Lucky1 is always ready to chase his favorite ball around the yard
especially if the grand kids are visiting.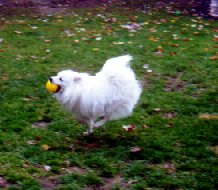 They spend lots of time playing in the yard,




"Here's Denice, the nice lady who brought me to Connecticut!
Her friend Beth isn't in the picture, but Beth drove us in her car!"


Lucky1 says, "Click on the doggy bone to go to the next page
where Frosty and I are being buddies, and just hanging out!"



Thanks, Chuck, Denise, Beth, and all the people who brought us this great little dog!
Back to the
Mountainside Spitz page
Back to the

Genealogy Pages!
All Rights Reserved © 1999/2000 Mountainside Spitz

Free JavaScripts provided
by The JavaScript Source