Doran's Irish Fun Page #2
Presenting the Doran's Irish American Eskimo and Samoyed Dogs!

Our dogs excell at home or in the show ring!
Here are more of our kids, having fun!


Friends!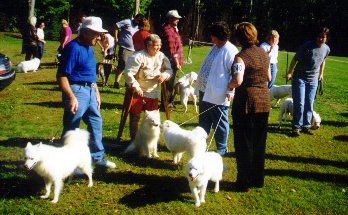 Jim and Ronnie Doran with their
Eskie friends and families at the AEDCONE 1999 Fall Show.


Miracle Mike!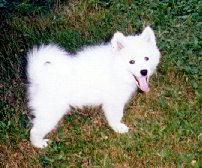 Mike as a puppy!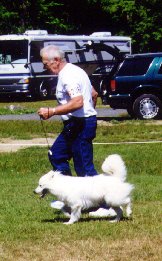 Jim and Mike in Mike's first show!
He was eight years old at the time!
Mike won his first ribbon that day ~ a BLUE RIBBON!



Show Time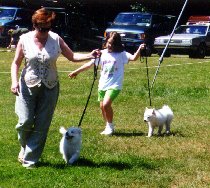 Show your dogs, please!
Sonny Boy, and his mom Dorry, lead his brother Frosty Treat with EJ
around the ring for their first show experience at 3 months of age!
Yes, we encourage youngsters to get involved!

In fact, this little girl, Erica-Jo and her dog, Frosty,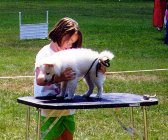 have grown up and here they are now in 2003!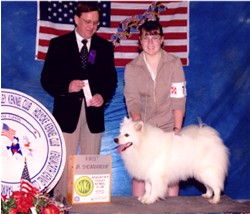 CH "PR" Doran's Irish Frosty Treat has helped
Erica-Jo win two of her three first place wins in
AKC Junior Showmanship, and they will now compete in
the open segment of the junior competition.

See more of Frosty at


Frosty Treat's Home Page




Our Eskies at Home!

Simba watches for Daddy in Florida!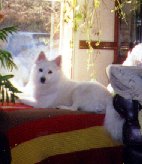 Stephie relaxing after a hard day of play!



Cotton and Sonny Boy!
Waiting for Daddy to come home!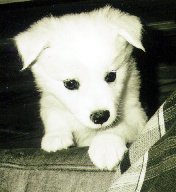 Lady Lieka reading the society page!



~~ LINKS ~~
Click on the doggy bone to get to these pages:



Doran's Irish Fun Page #1



Doran's Irish Fun Page #3



Frosty Treat's Home Page




DoranAcres@aol.com








All Rights Reserved © 2003 by Scooter
Free JavaScripts provided
by The JavaScript Source