Doran's Irish American Eskimo and Samoyed Dogs!

A Special Gift For Two Special Eskies!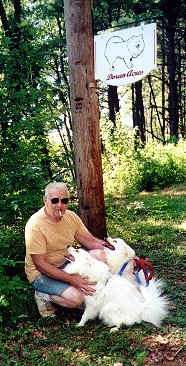 Jim and Ronnie Doran spend some time helping with the
Heart Bandits American Eskimo Dog Rescue.
They have adopted two "very special" Eskies,
named Tom and Gerry Chubby!

The two dogs were owner-surrendered in New York City, and brought by the Eskie
Rail Road to Doran Acres to spend the night. Unfortunately, they had multiple
physical and mental problems.

They were so overweight their little legs could just about hold them up.
They had probably never walked in a pasture, or socialized with other Eskies.
Extremely nervous, and showing fear agression, they arrived with muzzles on.
Their fate was uncertain due to their age and personality problems.

Once they had seen them, Jim and Ronnie knew they could not give up
these two older, not-to-be-separated American Eskimo Dogs,
so Doran Acres became the "FOREVER HOME" of Tom and Gerry Chubby!

Today, they follow Jim everywhere around the yard. They have grown to show
trust, and now understand that there is kindness, and especially love in this world.
Tom and Gerry Chubby, who have never been separated in their lives,
will never be separated until that recall comes from above.
Happy Holidays from everyone in the Doran Family!

~~AWARDS~~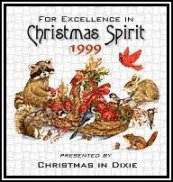 The following was received from the folks who sent the first award!
"In ADDITION, we would like to present this page with another
of our Christmas awards as well... this one (ATTACHED) is from our
Wag'n tails page. We're thankful everyday for people like the Doran's.
It is w/particular pleasure that we present this :)

All Rights Reserved © 2000 Laurel Look Farm/r.anderson
Free JavaScripts provided
by The JavaScript Source