Puppy Contract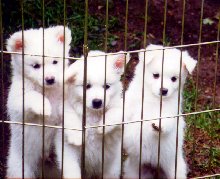 Mountainside Spitz is currently planning one litter of Standard Sized American Eskimo Dogs for Fall 2005. We are taking applications for puppies as of Dec. 1, 2005. Each potential puppy owner will be pre-evaluated to assure that each puppy matches as closely as possible with each new owner. We strive to breed only healthy pups, that conform to the standards set by the American Kennel Club, United Kennel Club, Canadian Kennel Club, and will sell to good homes only.

If you are interested in purchasing a puppy from us, please send us a letter or Email that includes the following information. You may copy and paste this questionaire to a letter/Email format. Just be sure to include any information that you think might be important in our selection of you as a potential owner.

Once your Questionaire has been evaluated, and the litter has been born, we will contact you if you have been chosen as a puppy owner. Do not send a deposit with the form. Sending this form does not mean that you have been selected to own a puppy. You will be notified when the proper time comes.

NOTE: We do not evaluate any potential owners, nor accept any deposits without this information.
QUESTIONNAIRE
Name

Address

Have you owned dogs before? If so, what breed?

Where do you live?

Do you have children? If so, what ages are they?

What do you do for a living?

How many hours a days are you NOT at home?

How much time can you devote to a puppy?

Do you have a fenced backyard?

How will a potential puppy be housed?

How do you feel about crate training and obedience training?

Do you have other dogs currently?

Are your dogs inside or outside dogs?

Do you have other pets? How many and what are they?

What hobbies/activities does your family like to do?

Would you be taking your dog with you on trips?

Do you have a regular veterinarian?

What is his name and address and phone number?

Do you belong to any dog clubs or have you participated
in any shows or trials?

Are you willing to follow instructions regarding the care and
raising of this puppy?

Why do you want an American Eskimo Dog?

Include any other information that you think would be helpful in informing me about the type of home this puppy would have.


Mail this form to
Ruth Anderson
Rt 1 Box 1345
Dillwyn, VA 23936

Or Email to
spitz@kinex.net



Stud Dog Contract Information

Frosty 1 year old
CH 'PR' Doran's Irish Frosty Treat has been a show dog. He has
been a beloved family pet. He has won numerous ribbons in the
show ring, and he has always been a loving part of our family.
The grand children have trained him and shown him in the ring.
They have played with him and groomed him and loved him.



GROUP THREE!!

The results? One very happy dog!

Frosty was tested at Optigen for PRA. The results?

Frosty got a Pattern/Genotype A ~~ NORMAL !!

Frosty is now ready to pass along the traits that he has inherited
through his long list of ancestors. He will stand at stud
to a few limited and approved bitches in 2005. If you wish
to breed your bitch to him, she must:
be at least Championed with AKC or UKC;
have current vaccinations for Rabies;
be up to date on vaccinations for disease prevention;
have a vaginal exam that shows negative for STD within ten days prior
to breeding to Frosty.

You will also be asked about CERF, OPTIGEN, and OFA exams/tests that
your bitch might have had.
Check out Frosty's pedigree! Click on the clover!


Use your browser's BACK button to come back to this page!

Please contact us about the availablity of a planned breeding
for the Spring of 2006.

Mountainside Spitz
434-969-4253

Page By ~Scooter